Nate
Darwish
Licensed Real Estate Salesperson
---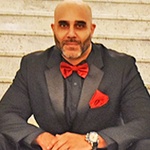 OFFICE: 212.360.7000 x126
CELL: 347.460.6576
FAX: 212.840.4979
EMAIL: nate@nyr.com
With years of real estate experience under his belt, Nate works closely with his clients to help them secure a space and negotiate the best deals he can for anyone who commits to calling him their agent. He prides himself on his work ethic and adamantly stands by a code of honesty and fairness. He is knowledgeable of all the neighborhoods in NYC and can assist a client no matter where they are looking to call home.

A former heavyweight Golden Gloves boxer, he feels that he can relate what he learned in the ring to any aspect of life or business. A born and raised local kid and a longtime Brooklyn resident, he brings with him a seasoned knowledge of NYC. He attended Temple University in Philadelphia where he graduated with a degree in Film, originally aspiring to become a director.
In his spare time he likes to lift weights, box and edit videos. He also started his own brand of apparel geared towards those with an active lifestyle and designs everything from scratch.





TESTIMONIALS
"It was my first time finding and renting an apartment in New York City. Nate was incredibly helpful every step of the way and continues to look out for us even after the lease signing. I heard a lot of stories about what could go wrong, and none of it applied to us. I didn't feel pressured, and Nate understood what we needed and what our budget was, helping us secure the first apartment that we saw and absolutely loved. He knows the city very well and knows how to treat clients like people. I look forward to working with him again when the time comes."- Angel R.


"Working with Nate was a great experience, especially being my first apartment in NY. He was always quick to reply and there to help me if there were any problems. I appreciated his professionalism and friendly personality. I would definitely recommend him to work with." - Danielle S.


"Nate was extremely helpful with the process of getting an apartment. He was easily approachable and answered all of my questions. He answered any inquiry I had and helped clarify the wording of the documents. After I moved into the apartment he promptly answered the emails I sent him pertaining to concerns or questions of the apartment. He is a great asset to the team! - Evelyn R.