Aurora
Azar
Associate Broker
---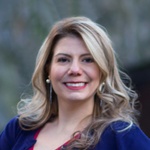 OFFICE: 212.360.7000 x108
CELL: 917.293.0002
FAX: 212.840.4979
EMAIL: aurora@nyr.com
Aurora is an associate broker and constant top-producer at her firm. She counts high profile individuals in the finance, legal, medical, entertainment, fashion, food, advertising, and more as her clients. Nicknamed by one of her top clients as the "NYC Real Estate Matchmaker" she focuses the same level of utmost service for every client from a first time home buyer to a seasoned investor. One of her top achievements was the sale of the personal apartment of one of NYC top real estate developers. An investor herself with property in NYC, Boston, and Florida she uses her knowledge, background, and skills in working with every client in locating the right property. Her utmost discretion, patience, honesty, knowledge have made her one of NYC's top brokers. She was named one of Downtown's Top 5% Brokers by a popular Real Estate Site.
Aurora has spent almost a decade oversees in Europe and The Middle East and has traveled extensively throughout those regions. Aurora's international background uniquely qualifies her to understand what clients from different regions of the world expect when they are looking for a home or an investment property in New York. This awareness of cultural nuances can save the client considerable time by being able to focus on the most suitable properties right from the start of the selection process. It is just one of the many details that Aurora's clients appreciate - from the first contact the transaction revolves exclusively around the client's needs. Aurora's experience, skills and wide network of contacts enable her to find the right property for even the most demanding clients, resulting in an effortless and pleasant transaction.
Aurora is a graduate of Boston University's School of Management. Her background includes a strong focus on entrepreneurship and marketing. Prior to entering the Real Estate world, Aurora gained valuable experience in the technology field, import/export, financial, retail, executive recruiting, and marketing.