Sashanna
Richardson
Office Manager / Licensed Salesperson
---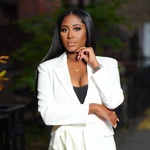 OFFICE: 212.360.7000 x100
CELL: 347.653.0401
FAX: 212.84.4979
EMAIL: Sashanna@nyr.com
Sashanna Richardson is the Office Manager as well as a Licensed Real Estate Salesperson for New York Residence. Sashanna holds a bachelor's degree from John Jay College with a major in Criminal Justice with a minor in Law.
Sasanna has a strong management skill and a solid marketing background. She has a keen eye for detail and the ability to build genuine relationships with clients.
Sashanna is eager to build her portfolio and combine her marketing skills with her real estate knowledge to assure all her clients' needs are satisfied. With an outstanding work ethic, integrity, and honesty, Sashanna is up for any challenge.
Born in Kingston, Jamaica, Sashanna then migrated to New York with her family at the age of six. Today, she is a proud dual citizen.