Angela
Villoria
Licensed Salesperson
---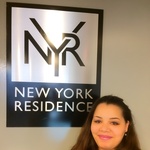 OFFICE: 212.377.9300x403
CELL: 646.474.5436
FAX: 212.840.4979
EMAIL: angela@nyr.com
Angela is known for her problem-solving skills as well her penchant for providing outstanding service to her clients. She has lived in Bronx, New York for over 20 Years. She Graduated from Monroe University in 2007 with a Bachelor degree in Business Administration with concentration in Accounting and Finance. She later worked for a Certified Public Accounting firm where she earned valuable experience in the administration of small businesses. After extensive volunteer work to improve Bronx community she started connecting with investors to better serve her community improvements.
Angela has specialized in guiding buyers and sellers through the buying/selling process with skill, care and commitment. She feels her experiences as an Accountant, Business Administrator, community volunteer and Real Estate Agent gives her the expertise she needs to serve those in need of assistance with their real estate decisions.
Angela is excited to be with the New York Residence team and urges her customers and friends to stop by for a visit.