Desiree
Crespo
Licensed Salesperon
---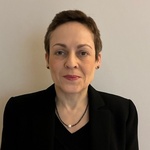 OFFICE: 212.377.9300
CELL: 347.882.4677
FAX: 212.377.9301
EMAIL: Desiree@nyr.com
A native New Yorker, Desiree has a passion for New York City and for real estate. Desiree's diverse professional background includes over 15 years in the film industry where she worked with companies such as Showtime and PBS, and with actors Michael Douglas and Susan Sarandon, among others. She has filmed in multiple locations across continents including Africa, South America as well as both the East and West Coasts. She owned and ran a successful bar in Puerto Rico and she honed her compliance skills working in the financial industry.

Desiree's love of New York City architecture and her entrepreneurial background led her to pursue a career in real estate. Her broad background has provided her with negotiating skills and the ability to problem solve without skipping a beat. Highly organized and detail-oriented, Desiree is committed to finding the right home for her clients.

Desiree speaks Spanish fluently and graduated from New York University with a Bachelor of Science in Communication Studies. Desiree's interests include travel, foreign films, historical fiction and music.